Recently JQ headed over to the Dominican Republic for an event, that produced some never before seen action, including live music and flame throwers during the nitro main, a one handed 1:10th truck race to victory, while drinking a 1 liter beer, and some very very fat whips. It was a great event, and one which should be back next year. Below you have a short report from the organisers, DRC Speedway.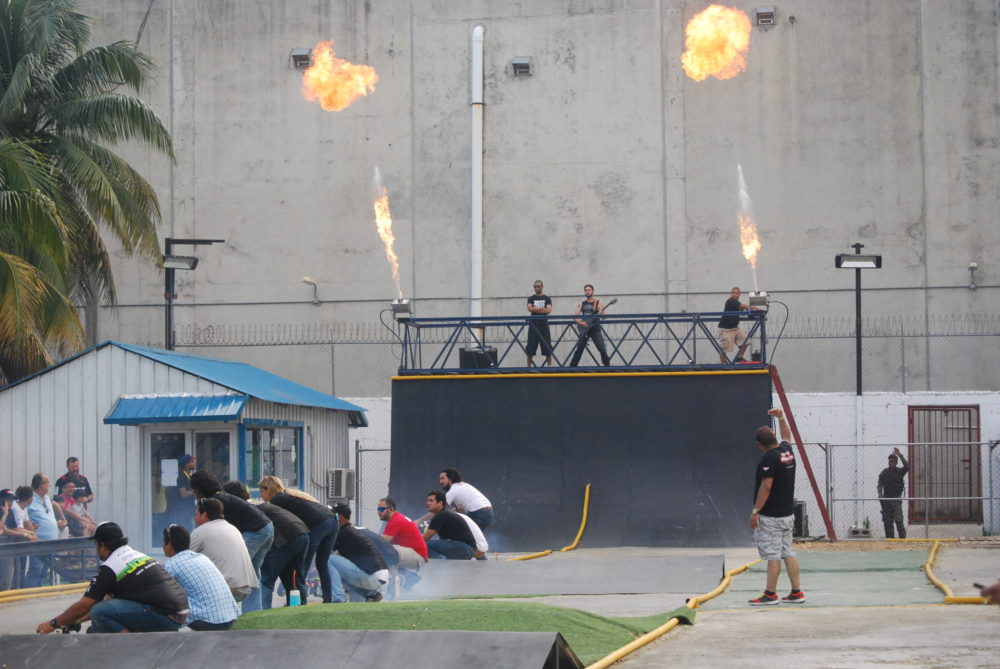 The Dominican R/C Fest, one of the most important races in the Caribbean was help at the DRC Speedway in Dominican Republic, running 6 different classes, Nitro Buggy, Nitro Truggy, eBuggy, SC 4wd, 1/10 trucks and 1/10th SC 2wd trucks. A small yet high grip track with fireworks, flame throwers and live guitar solos, paved the way to Joseph Quagraine's victory on a 45 minute Nitro Buggy main followed by Dominican national champion Carlos Sikora having to bump up from the B Main, and a close 3rd place finish by Luis Jose Cabral running his JQ Racing Black Edition buggy.
On the Nitro Truggy, Keenan White from Bermuda (Mugen Seiki) taking home the victory, Francis Ortiz (Team Kyosho) with a 2nd place finish and a 3rd place for David Infante.
The ebuggy, one of the biggest classes of the weekend had Joseph Quagraine taking the win, a 2nd place for Luis Garcia (TLR) and a 3rd place for the Dominican National champion Carlos Sikora also bumped up from the B Main.
Elvin Alba TLR Dominican Republic Team Driver took home the victory on the 1/10 Short Course 4wd open class with his tuned up LOSI TEN SCBE, Rafa Diaz (TLR) 2nd place and Ernesto Mathis (TLR) a very close 3rd.
The Short Course 2wd was dominated by Chayanne Melo (TLR), followed by 11 year old TLR Dominican Republic Team Driver Dulce Wiese (#Dulcenator) and a 3rd place for Keenan White from Bermuda running his AE SC5M.
The 1/10 Stadium Truck class was won by Joseph Quagraine testing a TLR 22T 3.0, a 2nd place finish for Luis Garcia (TLR), and a 3rd place for Francis Ortiz Kyosho Team Driver.
The DRC FEST is celebrated once a year thanks to the sponsors, Júpiter Fireworks, Pinturas Tropical, Westinghouse, Redbull, Cano Chemicals, and Ferreteria Americana. The DRC Fest also thanks JQRacing, Team Losi Racing, DRC Speedway and Los Cocos R/C for the amazing support and making this great event happen.